We deserve to thrive: poetry and climate activism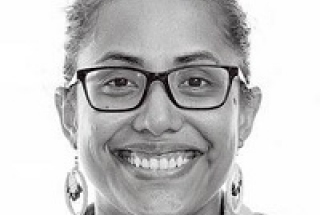 Presenter/s: Kathy Jetnil-Kijiner
Event type: Lecture
Event date: Thursday, 18 May 2017 - 5:00pm to 7:00pm
Event venue: Sir Roland Wilson Building, Theatrette 2, ANU
Kathy Jetnil-Kijiner is a Marshall Islander poet and spoken word artist. She received international acclaim through her inspirational poetry performance at the opening of the United Nations Climate Summit in New York in 2014.
Her writing and performances have been featured by CNN, Democracy Now, Mother Jones, the Huffington Post, NBC News, National Geographic and the Nobel Women's Initiative. The University of Arizona Press published her first collection of poetry, Iep Jā ltok: Poems from a Marshallese Daughter.
Kathy co-founded the youth climate change non-profit Jo-Jikum, dedicated to empowering Marshallese youth to seek solutions to climate change and other environmental impacts threatening their home island. She was selected as one of 13 Climate Warriors by Vogue in 2015 and the Impact Hero of the Year by Earth Company in 2016, and received her Masters in Pacific Island Studies from the University of Hawai'i at Mānoa.
The lecture will be followed by a panel of respondents including Anna Rose, Myer Foundation Fellow and Co-Founder of the Australian Youth Climate Coalition, Teretia Tokam, President of ANU Pasifika Student Society and ANU Environment/Law student Jinnie Widnyana.
The session will be chaired by Assoc. Professor Katerina Teaiwa (School of Culture, History and Language).
Register Online.
» podcast (mp3, 2.06 MB) Duration 5 minutes 42 seconds. 
Attachment/s: