Archive Futures: 2014 Fellowship recipient Maryanne Dever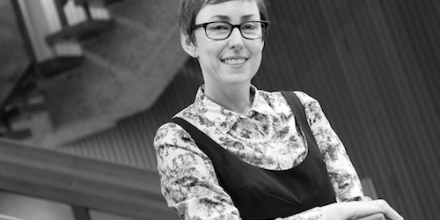 Recipient of the 2014 joint Gender Institute/Humanities Research Centre 2014 visiting fellowship A/Professor Maryanne Dever is currently undertaking the first of three visits she will make to ANU in 2014. A/Professor Dever will use her fellowship to develop a book length manuscript entitled, Paper: Materiality and the Archived Page.
This project extends her work in The Intimate Archive (2009), by posing new questions about intimacy and materiality as they relate to research practice in archival settings. The research engages directly with emerging debates across the Humanities regarding the character of materiality and matter and Dever joins these to new methodological questions associated with the 'archival turn' across many Humanities disciplines. Case studies for this work include Greta Garbo, Eve Langley and Valentine Ackland. This project is strategically aligned with the Gender Institute's interdisciplinary reach through its productive location at the intersection of three identified research nodes: Gender, literature, performance and the arts; Gender, sexuality and culture; and Gender and history.
Maryanne will be on ANU campus from 25 May - 16 June, 21 September - 3 October and 10 November - 21 November and will be based in the Humanities Research Centre in the AD Hope Building.
During these visits, Maryanne will present a public lecture, 'Feminism's Archive' as part of the Gender Institute 2014 series Feminist Theory Now and a seminar entitled 'Being in the Archive' in the HRC seminar series. She will also co-host, along with Professor Lisa Adkins, a joint forum on the future directions of Australian Feminist Studies and launch of a special issue in September, as well as a career progression workshop for HDR and ECRs in November. Details of these will be forthcoming.
Maryanne can be contacted by email on maryanne.dever@newcastle.edu.au or maryanne.dever@anu.edu.au
MARYANNE DEVER is Associate Professor in the School of Humanities & Social Science at the University of Newcastle. She was previously Director of the Centre for Women's Studies & Gender Research at Monash University and President of the Australian Women's and Gender Studies Association.  She is co-founder and co-convenor (with Linda Morra) of the Archive Futures Research Network (www.archivefutures.com), an international network of academic researchers and archivists founded 2012. In addition to her research on literary archives, Maryanne is widely published on the history and development of Women's and Gender Studies and on gender and higher education. She is co-author of The Intimate Archive (NLA 2009) and with Linda Morra is currently co-editing a 2014 special issue of the journal Archives and Manuscripts on 'Literary Archives, Materiality and the Digital'. She also co-edited (with Lisa Adkins) a 2014 special issue of Australian Feminist Studies on the theme of 'Gender and Labour in New Times'. From 2015 she will be co-editor (with Lisa Adkins) of Australian Feminist Studies.